Highest-Rated Rooftop Equipment Screening Available On the Market
Protect your HVAC unit from the elements with high performance cosmetic screens from Skyline. Our HVAC cosmetic screens are made of 100% Steel Components for unparalleled durability – even with wind speeds up to 160 mph. Our Green fabrication practices ensure that you get incredible quality while supporting the effort to keep our environment clean and safe.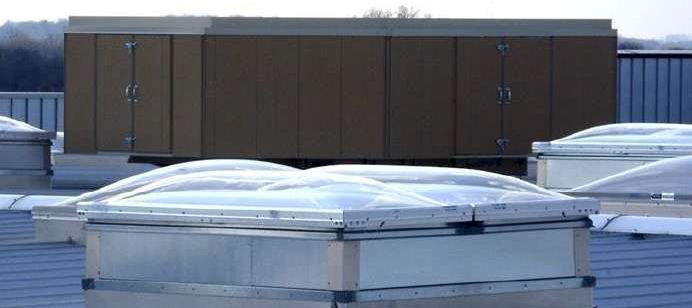 Breeze through Your Permitting Requirements
We make it simple to get your building plans approved with professional stamped engineered drawings included at no charge with your HVAC cosmetic screens. These drawings detail everything the local permitting office needs to approve your building plans, drastically reducing the time you spend on paperwork and compliance.
Install Your HVAC Screens in Half the Time
Most cosmetic screening kits take hours to assemble – all you get is a box of materials and printed instructions.
Our cosmetic screens come pre-fabricated specifically for your unit. You complete your installation in just four steps:
Uncrate
Install 4 corner brackets
Attach the panels
Attach the trim
That's it! We include all of the hardware you need, and we even commission an onsite rep during installation to make sure everything is set up correctly.
Enjoy Quick Access & Easy Maintenance
Skyline cosmetic screens are designed with your needs in mind. We specially designed our cosmetic screens with convenient access doors to make it easy to service and maintain your HVAC unit without having to take apart the screen.
Over 20 Colors to Choose From
Get the shade you need to match your building's existing color scheme. Choose from 21 distinct colors to create the most aesthetically pleasing protection for your HVAC units.
Need More Information? Let's Talk
If you have questions about our HVAC cosmetic screens or just need more information on sizing, colors, or custom fabrication, we're ready to help. Call us today at 877.735.2956 or email us to speak with a service professional.